Hi all - sorry for the late Tell All Tuesday post! Better than nothin' is what I say.

Today we're going to talk about a specific type of color cast. Many times in images, clothing and accessories that are white end up having a color cast, or tint. Most commonly in my images, the cast is blue, yellow or magenta - or a combo of all three. This is a quick tutorial on how to get rid of that color cast.

*Also check out Ashley McNamara's tutorial on this

HERE

- it's a good one!*


Here's an image SOOC. Click on the Quick Selection Tool and select the white that is tinted. Sometimes I do all the white at the same time, and sometimes I do them piece by piece because the tint is different. This time I selected the blanket and not the diaper cover.



Sorry, I adjusted the color without taking a screen shot. This next one will show it. After I adjusted the blanket, there was a shadowy area that still looked wrong to me. I selected it. Then went to Hue/Saturation in the Adjustments palette.



I lowered the magenta. Ashley McNamara's tutorial shows you how to find out what color to decrease.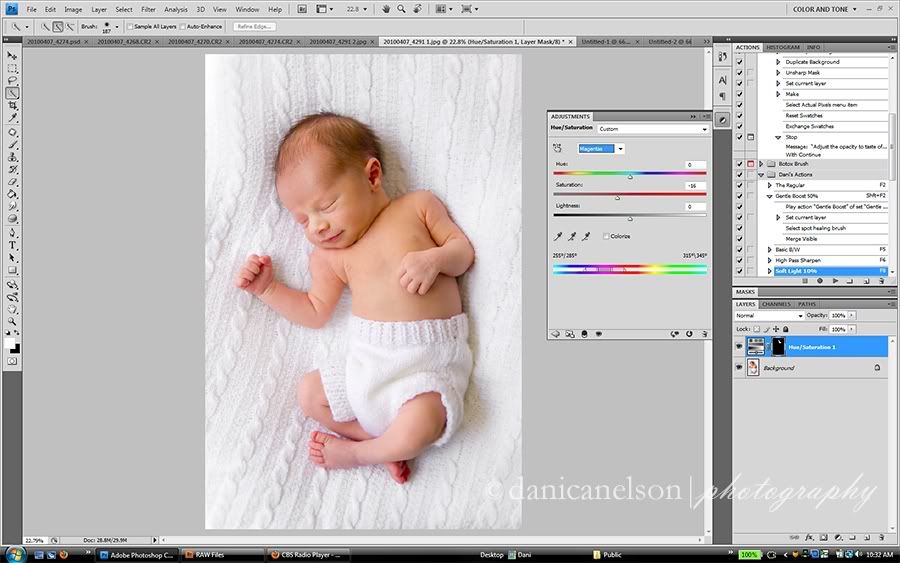 I also selected parts of the diaper cover that were magenta. Here's the image after fixing the color casts.



Make sense? Hopefully!